Interactive Security
EBC Security is proud to offer the Honeywell "Tuxedo Touch" interactive security systems.  Honeywell is the largest security manufacturer in the world and the new "Tuxedo" represents their most intuitive and powerful for home security and control.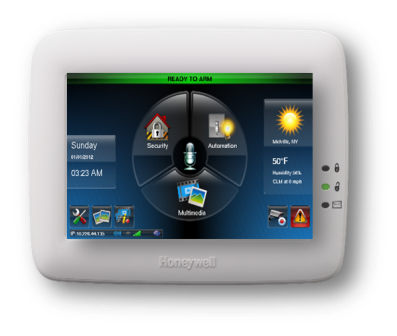 Computer Networking
Our homes are becoming smarter and more efficient. Computer networks are no longer just for surfing the web and checking email. A home network is becoming the backbone of backbone of virtually everything in the house. Music and movie streaming, security cameras, lighting control, phone systems, and alarms may rely heavily on the home's computer network.
An enterprise-grade computer network, will allow all of these systems to work in harmony. We can configure your network to allow control and monitoring of these systems when you are away from home using your phone, tablet, or laptop.
Video Surveillance
Video Surveillance can be a way to monitor for intruders or just keep an eye on the kids in the back yard. We will design a comprehensive video surveillance system in and around your home. You may monitor activities in real time and view live camera feeds from the convenience of your smartphone or tablet, from anywhere in the world. DVR's and NVR's may also be integrated into the system to record footage for review at a later date.
A host of camera options are available, from covert indoor cameras, to ultra-high definition weatherproof cameras with night vision. Even panoramic cameras, which can capture and record a full 360-degree view!
A video surveillance system professionally installed will help keep your home safe and secure, while giving you peace of mind – so you can focus on enjoying quality time with your family.